Tenant Participation Certificate
Open College Network NI Level 2 Endorsed Course Certificate in Tenant Participation & Community Development
Who's the course for?
If you are a tenant, housing professional or anyone wanting to gain knowledge and understanding of tenant participation and community development in Scotland and the links between these, this course is for you!
For more experienced tenants and staff, the certificate provides formal recognition of your knowledge and understanding. Supporting learners to complete the course also assists landlords towards achieving TPAS Scotland Accreditation.
What's in the course?
What's in the course? The course consists of 4 parts. All essential learning materials are provided, except a copy of your landlord organisation's tenant participation strategy which you will need to obtain yourself.
PART ONE CONSIDERS:
What is Tenant Participation?
Benefits of Tenant Participation
Legal & Regulatory context of tenant participation in Scotland
PART TWO EXPLORES:
Tenant Participation Strategies
Levels of and approaches to participation
PART THREE COVERS:
What is community development?
Links between tenant participation and community development
Development capacity in the community
PART FOUR FOCUSES ON:
Supporting increased tenant involvement
Requirements on registered tenant organisations
Charitable status and the office of the Scottish Charity Regulator
Successful completion of all parts of the course leads to an Open College Network NI Level 2 Endorsed Course Certificate in Tenant Participation and Community Development (comparable to Scottish Credit and Qualifications Framework Level 5).
The certificate is delivered in partnership with Supporting Communities our OCN Northern Ireland accredited partner. Online learners must register for the award. Learners in face-to-face groups can choose whether or not to register for the award.
Find out who has been successful from the first and second cohorts of the TP Certificate here.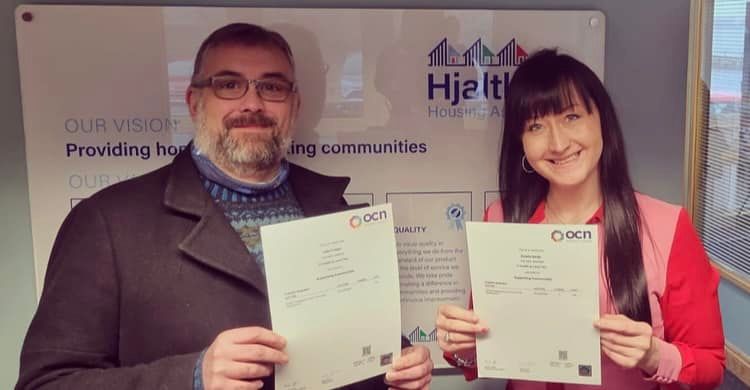 "I really enjoyed the coursework and feel it has been of benefit to me in my role as Housing Officer by giving me more of a detailed insight into the link between tenant participation and community development.  It is important that individuals recognise the importance of their role as tenants within their communities and us, as landlords utilise their knowledge and experience in order to make their homes a better place to live".
ONLINE
Learners should usually expect to complete the
course in no more than 12 weeks.
Members: £500 Non-Members: £600
IN-HOUSE (face to face/blended)
Five short sessions over 10 weeks. Learners should usually expect to complete the course in no more than 12 weeks.
Please call us to discuss on 0141 552 3633
Booking Information
For booking and information please contact us by calling 0141 552 3633 or completing the form below: